BIAN UML Models for every modeling tool
Start working with BIAN Data or Business Object Models in the Modeling tool of your choice
BIAN and its role in the banking industry

The Banking Industry Architecture Network (BIAN) is a worldwide collaborative not-for-profit ecosystem formed of leading banks, technology providers, consultants and academics that offers a future-proof technology framework to standardise and simplify the core banking architecture. (More info: BIAN)
The common goal is to lower the cost of banking and to boost innovation in the industry.
The BIAN framework architecture is laid out in models.
BIAN uses BiZZdesign software for modeling the BIAN Object Models, the Control Records and the Scenarios (using Archimate® and UML languages), unfortunately BiZZdesign lacks the facility to export the UML models to XMI.
At Envizion we make these UML models available to anyone by offering them in generic (XMI) and tool specific formats.
These formats will allow you to elaborate, in the tool of your choice, your own logical and physical models, database scripts, where you can use the BIAN models as a starting point.
A brief introduction to the BIAN UML models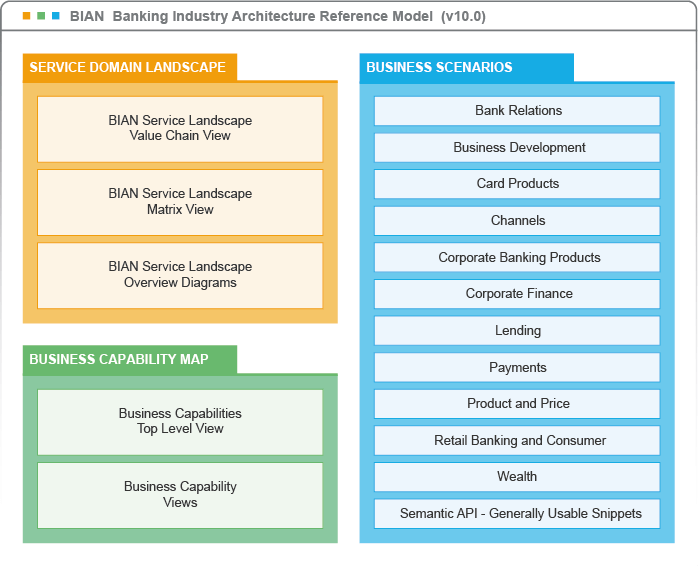 The BIAN Models have the objective to facilitate Financial Industry stakeholders to exchange financial Industry information and information services.
BIAN uses Archimate® and UML as modeling languages. The UML models however can not be exported. Thus, we have converted these.
The UML models can be grouped in 3 categories:
The BIAN Data or Business Object Models
The BIAN Control Records
The BIAN Scenarios
BIAN Data or Business Object
Models and Control Records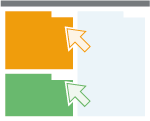 Models only (Control Records coming soon)!

The BIAN Object or Data Model concentrates on Foundational Information Building Blocks (Business Objects) and Derived Information Building Blocks (Control Records)

BIAN has a focus on meta-data (the meaning and structure of data and information)

See an example (1) (2)
Objectives
Provide a common vocabulary with unambiguous definitions, which can be used as the Esperanto to enable translation of financial concepts between different user communities (semantic community versus speech community)
Apply Common basic data model structures
Enable data interoperability (Open Data)
BIAN Deliverables
A standard set of elemental business objects A standard set of data model patterns that are IT and Organization Agnostic
Audience
These models cover a broad audience: from data analyst, data modeler, data architect, Database Administrator and more
BIAN Business Scenarios
Not yet available, COMING SOON!

The BIAN Business scenarios are a linked sequence of interactions between Service Domains in response to a business event.

See an example
Objectives
A BIAN Business Scenario is not intended to define a standard process but is simply one viable example of possible behaviour. The flow is only set out to be read in a sensible sequence.
It is not intended to be exhaustive or complete. It helps to clarify the nature of the service exchanges between Service Domains and the role of the Service Domains by providing practical examples. They represent a dynamic view.
BIAN Deliverables
A standard set of possible flows
Audience
These models are intended for: Business Architects and Designers (Process Modelers) and more
BIAN models ready to import into your favorite tool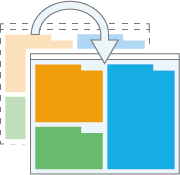 You get an exact copy of the BizzDesign model
Each model has the same colours and positions as the original BizzDesign model.
Full documentation in PDF format: BIANBOM version 10
Organised per Business area, Business Domain, Service domain (class diagrams), helper, landscape and overview diagrams with and without referenced diagrams and as one global file containing all objects.
Simply import. No additional steps or configuration needed.

Beware: the
XMI
format models only contain objects. They have no diagrams, colors or positions!
How to pick a sample
1. Go to the BIAN Digital Repository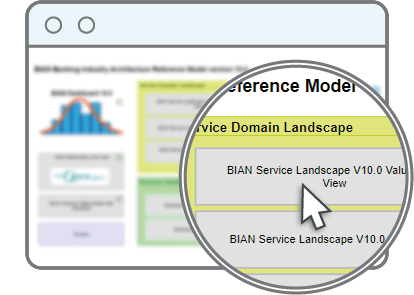 2. Select a Service domain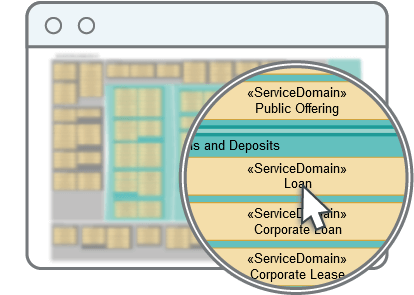 3. Select the "Appears on" menu entry. In this section click on the "<chosen SD name> SD Overview" image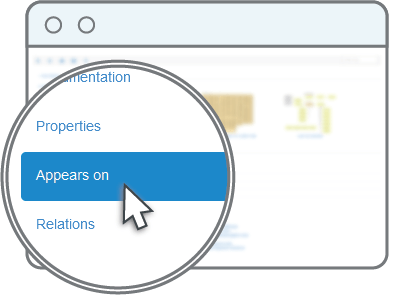 4. Click on the grey box with the BOM Diagram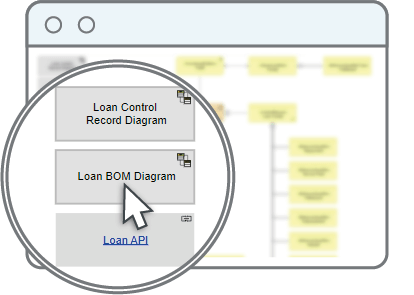 5. This is your chosen model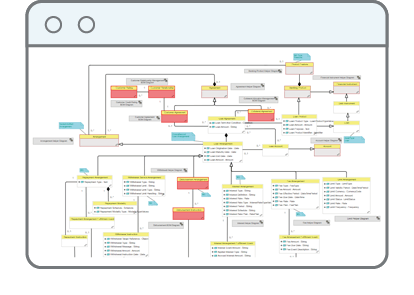 Get a free model sample!
We would like to give you a free model sample, as a proof that you can use these models using your own modeling tools.
Follow the steps accompagnying this text, we have used the "Loan Service Domain" in the example, but you can choose whatever you want.
Use the form below to request your free sample, or to ask us any question concerning this offer.
Form by ChronoForms - ChronoEngine.com
---
Schedule a call
If you would like an Introduction or Demo, you can schedule a call with us.
---
Buy now
Do you want to start modeling immediately? You can buy the model files here on the Envizion webshop.

Buy models now